City of Hartford Dept. of Health & Human Services
In Collaboration with the
Greater Hartford Harm Reduction Coalition, Inc.
Invite you to join us for a
COMMUNITY FORUM
Series Regarding
OPIOID OVERDOSE AWARENESS & PREVENTION
Part 4: Medication Assisted Treatment & A Community Conversation
PURPOSE: In connection with National Prevention Week, the 4th and final in the Community Forum Series will be a discussion highlighting Medication Assisted Treatment, the myths and the facts. We will also have a healthy conversation with residents, parents and community stakeholders about the opioid epidemic, its effect locally and statewide.
If you ever had a question on how to get help with a substance use disorder or need help accessing services, this is the place to be! Come learn what is being done to address this crisis. ALL are welcome!
Tuesday, May 16, 2017 from 5:30pm-7:30pm
Samuel V. Arroyo Recreation Center at Pope Park
30 Pope Park Drive, Hartford, CT 06106
Light refreshments will be served at 5:15pm, therefore please
RSVP using the green register button
hhs-ghhrc.eventbrite.com
For more information
email us at info@ghhrc.org
OR phone 860.856.1815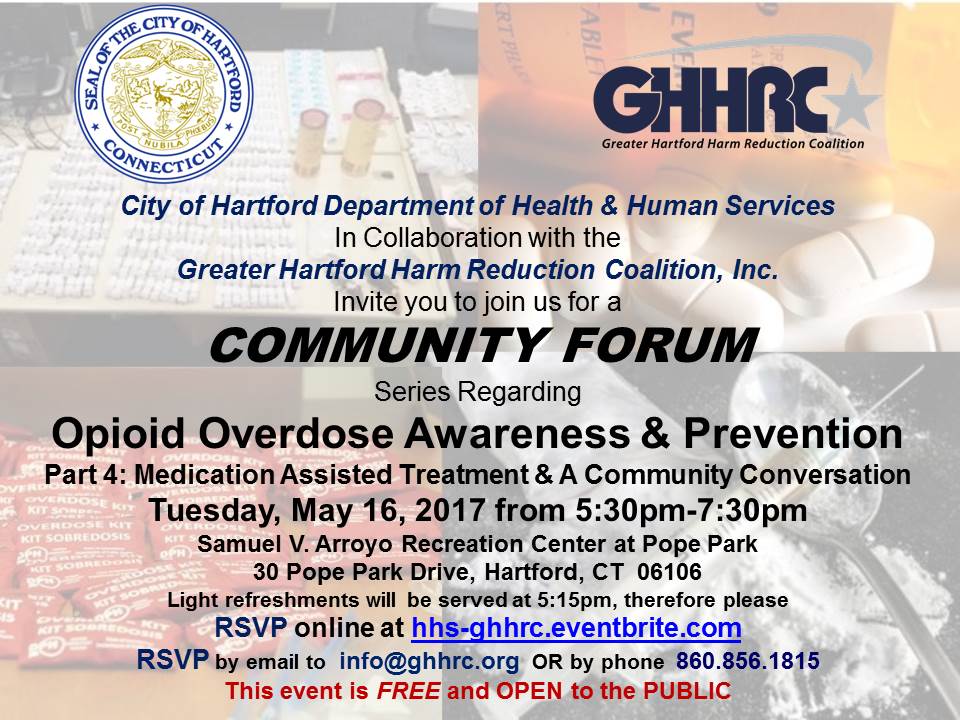 This event is FREE and OPEN to the PUBLIC
Register and bring your family, friends and colleagues with you!
Don't forget to include them in your RSVP count! Thank you!