City of Hartford Dept. of Health & Human Services
In Collaboration with the
Greater Hartford Harm Reduction Coalition, Inc.
Invite you to join us for a
COMMUNITY FORUM
Series Regarding
OPIOID OVERDOSE AWARENESS & PREVENTION
Part 3: Facilitating Engagement, Addressing the Crisis
____________________
PURPOSE: Part 3 in this Series will explore how various entities are addressing the opioid epidemic; seeking engagement and collaboration outside of normal silos; and empowering those with substance use disorders, along with their impacted families and friends, to affect positive change.
Hartford Police will soon begin carrying Naloxone and will be on hand to discuss an effort to provide timely information to the community, specifically addressing the drug using population.
Emergency Rooms provide acute care, but are now beginning to add Recovery Coaches and other interventions to address the underlying needs of overdose patients.
Recovery Support Services (RSS) funded by the Access To Recovery (ATR) federal grant and The Access Line (563.4086) provide a myriad of access points to resources for treatment services.
Neighborhood Pharmacists are reaching out to communities in an effort to make Naloxone more available and provide methods for proper disposal of unused medications.
Faith-Based Organizations are exploring methods to reach their congregations and impacted neighborhoods.
Community-Based Organizations are offering opioid overdose awareness and prevention trainings and dispensing Naloxone.
____________________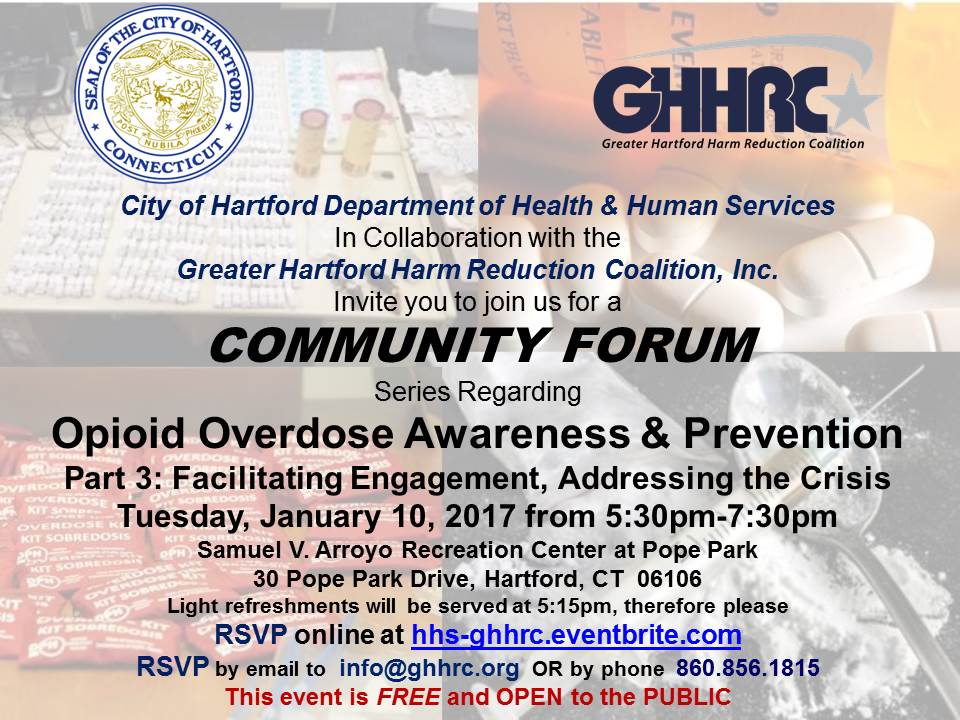 Tuesday, January 10, 2017 from 5:30pm-7:30pm
Samuel V. Arroyo Recreation Center at Pope Park
30 Pope Park Drive, Hartford, CT 06106
Light refreshments will be served at 5:15pm, therefore please
RSVP using the green register button
hhs-ghhrc.eventbrite.com
For more information email us at info@ghhrc.org OR phone 860.856.1815
This event is FREE and OPEN to the PUBLIC 
Register and bring your family, friends and colleagues with you!
Don't forget to include them in your RSVP count! Thank you!